Need a Broken Window Glass Repair Service Brisbane?
Then you're in the right place! Glass One are the best professional glass repair services Brisbane North, Brisbane South, Ipswich and surrounding areas.
If you need a broken window or glass repair service Brisbane, then you're in the right place! With extensive experience and qualified staff, Glass One can provide you with the best glass repair and glass replacement services.
Whether you need to repair a broken window, repair a sliding glass door, or to install a pet door in your glass door, we've got you covered. We also provide custom glazing solutions such as a tailor made glass tabletop, or a new framed or frameless mirror, our skilled glaziers can create them all to the highest standard.
We also offer commercial glass repair services such as glass shop fronts, office partitions and glass balustrades. Plus, if you find yourself with a weekend emergency and need a glass door or window repair, we're here to help!
We offer a comprehensive range of glass repair solutions, available every day of the week or on the weekend for fast emergency window and glass door repair.
We take pride in always providing the highest quality of workmanship and strive to deliver first class customer service for all glasswork we do. So, contact us today and let us help you bring life back to all your broken glass windows and doors.
BOOK GLASS REPAIR TODAY
Call us at 0436 452 771 or fill out the form.
Emergency Glass Repairs
For glass repair emergencies call our glazier team on 0436 452 771.
We understand that windows and glass doors can get broken at the most inconvenient times so, if you have a glass repair emergency over the weekend, we are happy to help secure your home or business property!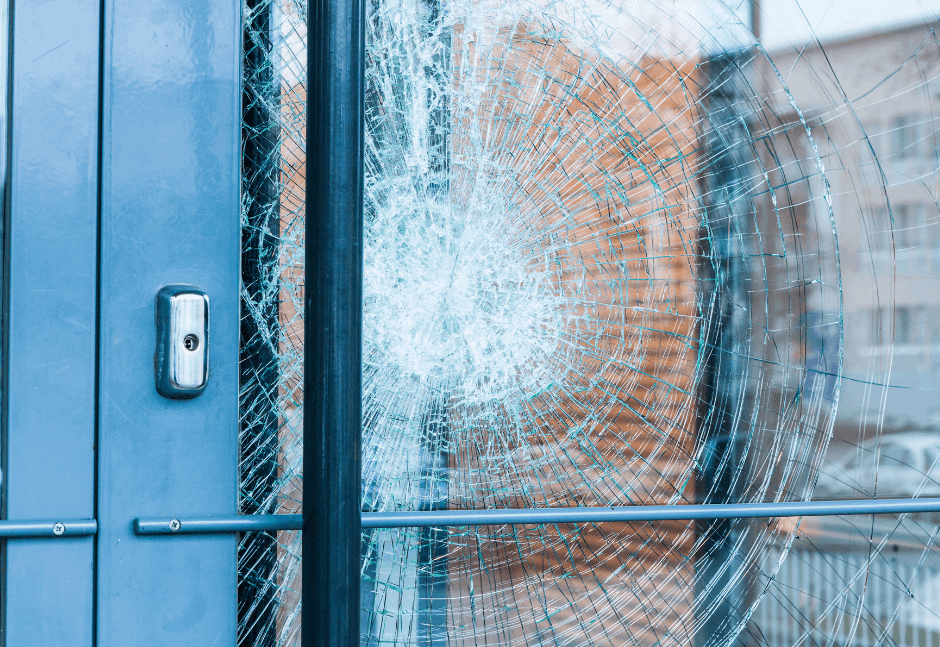 Glass Door Repairs
When it comes to glass door repairs, professional glaziers can make all the difference. Our experienced glaziers specialise in door glass repairs and glass sliding door repairs of all shapes and sizes!
We specialise in all manner of glass door repair, offering a comprehensive service from the initial consultation right through to the completion of the repairs, or the installation of the door glass replacement.
Our glaziers are highly experienced and are trained to the highest standards, offering a reliable and professional service that you can trust.
So, if you have a glass door that requires repair, you can rely on us for prompt and professional glass doors repairs and customer service that will exceed your expectations. Contact us today and we'll be happy to help with your glass door repair.
Window Glass Repair
If you're looking for window glass repair Brisbane, you've come to the right place! Our skilled glazier team specialises in glass window repairs for timber, steel and aluminium windows.
Our expertise allows us to quickly and efficiently identify and address glass repair needs, getting your windows fixed and functioning again in no time. If a window repair is not possible, we will give our advice on the matter; then we can supply and install window glass replacements.
So if you have broken window glass, don't hesitate to call us! Our team of experienced glaziers provide fast, quality window repair services to keep your windows looking their best.
Our Glass Repair Services Brisbane & Surrounds
Smash, crunch, crack, no one likes to hear the sound of glass breaking but accidents happen all the time. Our team of glaziers provide extensive glass repair services including:
Don't ignore any small cracks or chips in door or window glass. Even little faults like these can weaken the pane of glass, making it easier for further cracks or breaks to occur.
Why Choose Glass One's Glaziers?
By choosing to use Glass One for all your glass repair needs you're guaranteed:
Friendly, professional customer service
Prompt response for all jobs
We'll safely clear away all broken glass after repairs or replacements
Glass One offers affordable glass repairs
We cover all insurance work
Our glaziers have many years of experience in all aspects of glazing
We recommend you always check a tradesperson is licensed and insured. Glass One are fully qualified glaziers and licensed members of the Queensland Building and Construction Commission.
Your Local Glass Repair Glazier Brisbane
For the very best in glass repairs in Brisbane and Ipswich contact our team on 0436 452 771 or complete our online enquiry form today.
Frequently Asked Questions about glass repair
Tips for cleaning cloudy glass or mirror
Can you replace the glass in a window?