What is energy-efficient glazing?
Have you heard the term energy-efficient glazing and wondered what it is? You're not alone.
Australia is known to have the harshest sunlight in the world, therefore it can be difficult to maintain a comfortable indoor environment. Energy-efficient glazing is one option that will allow you to improve your home's insulation. Additionally, it will assist with reducing your carbon footprint and your overall energy consumption.
Glazing the glass and frames in windows, external doors, and skylights has a significant effect on thermal performance. Did you know that up to 40% of a home's heating energy can be lost and up to 87% of its heat gained through windows? Therefore, improving the thermal performance of your window glazing will increase the comfort of your home all year round.
Whether the glass is single, double, or triple glazed it will allow good solar heat gain, however, when glass is double or triple-glazed it is much more effective at preventing heat loss.
Benefits of energy-efficient glazing
This process of glazing makes glass/windows highly thermally insulating, therefore improving the energy efficiency of your home or business, and saving you money on your energy bills.
Energy-efficient glazed windows are manufactured using smart glass technology that works like blinds, automatically adjusting tint levels in response to natural sunlight and temperature changes outside. What's more, there is no need to install insulation, you can enjoy natural light while keeping outdoor elements like dust, pollution, and heat as far away from your living space as possible.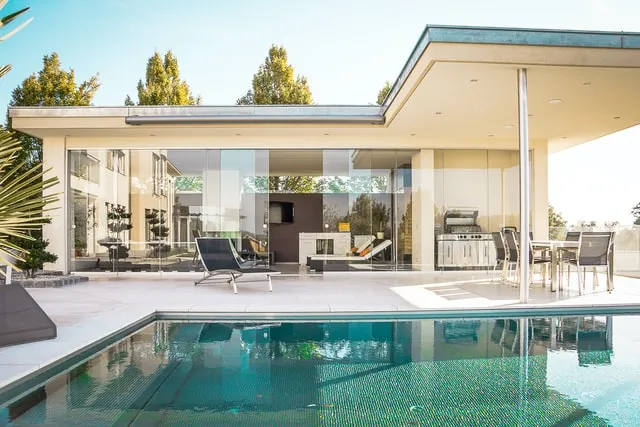 Glazing classifications
Single glazed - Low E glass
Single-glazed glass has a coating on one side or surface, this is to the inside of the window. The benefit of having a Low E coating is it has a lower U value and hence provides better levels of insulation than normal clear glass. The coating reflects the heat back into the room whereas glass without a Low E coasting allows the heat from the room to pass through it.
Single glazing certainly served its purpose when there weren't any other options available.
Energy efficient glass
Energy efficient glazing; is the term used to describe the double glazing or triple glazing used in homes with modern windows. Unlike the original single glazing, energy-efficient glazing incorporates low-emissivity coated glass to prevent heat from escaping through the windows or units.
Energy-efficient glazing creates a barrier between the inside and the outside world and has proven to be up to 100% more energy efficient than single-glazed counterparts. Most Australian homes and businesses still have single-glazed windows.
Energy-efficient windows get the 'Thumbs Up'
During the day, energy-efficient glazed units allow sunlight in through clear sections while blocking UV rays with additively sealed tinted layers.
At night it helps minimize heat loss by trapping air between the panes of glass and keeping your home warmer during the winter months. That means lower electricity bills all year long!
You can use the Australian Glass and Window Association tool to calculate the potential savings that may be achieved by energy-efficient glazing, additionally, the Window Energy Ratings Scheme ratings compare the performance of windows, doors, and skylights.

Glass One's qualified, licensed, and insured glaziers work to Australia's Safety Standards and have a strong focus on customer satisfaction. Call 0436 452 771 for prompt and efficient glass repair service throughout Brisbane and Ipswich.
References:
https://www.alwindows.com.au/blog/which-type-of-glass-is-best-for-energy-efficiency/
https://www.yourhome.gov.au/passive-design/glazing